There are so many reasons your business should have an eye-catching sign. As Aurora's trusted sign company, our team at Sign Central is dedicated to providing businesses in the Chicagoland Area and surrounding suburbs with custom-made signs that we design, fabricate, and install, to drive traffic to your business. Here are six reasons why signage is a crucial element for your business. Be sure to watch our video, too!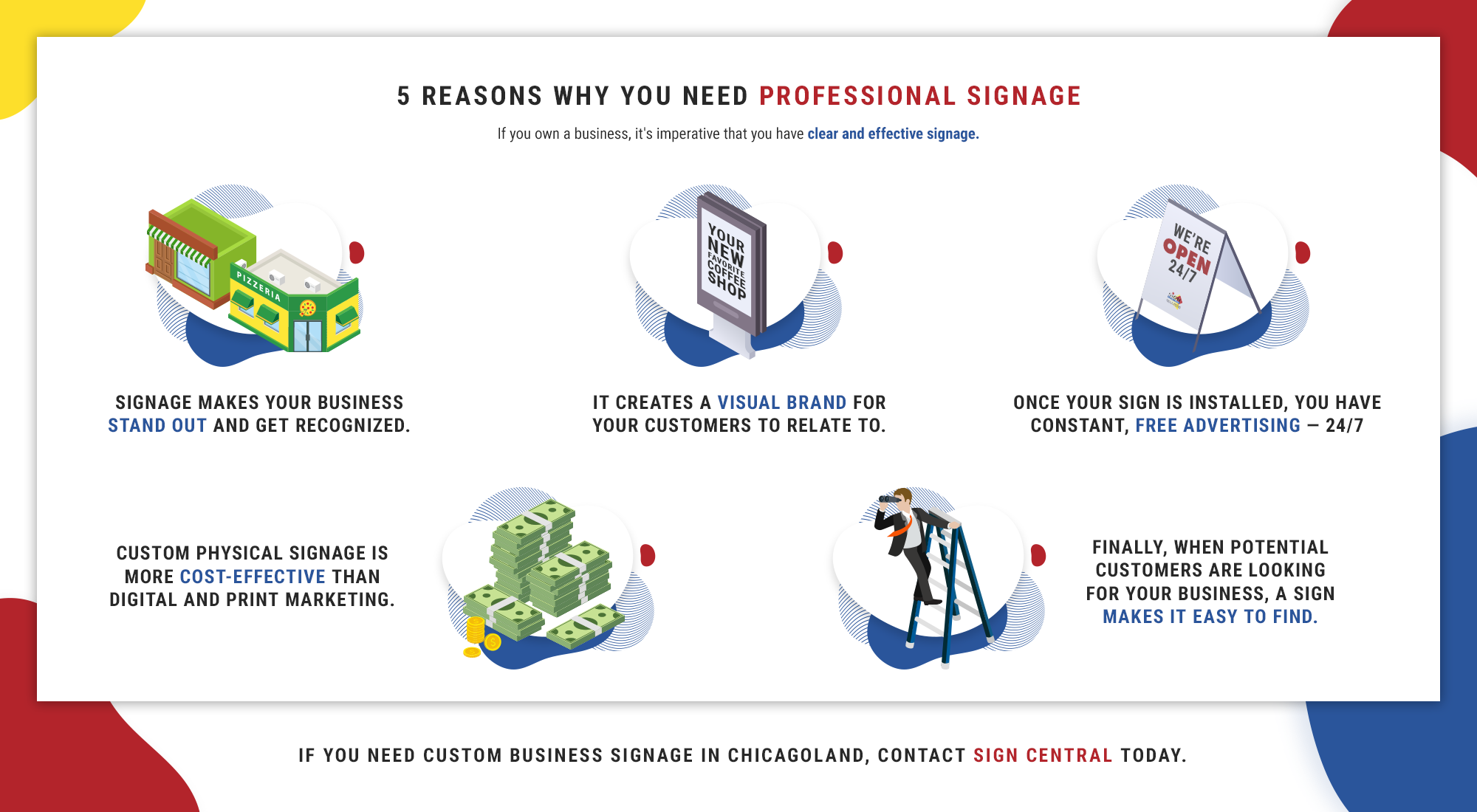 Provides Continuous Advertising
An impressive custom business sign serves as a kind of silent salesperson for your business, providing your business with continuous advertising 24/7, day or night, rain or shine. With an eye-catching storefront sign or exterior sign ,that is well-placed in a highly-visible location, you don't have to worry about potential customers missing out on seeing your brand. Even though your sign is placed in a fixed location, chances are, people passing by on foot or vehicle will see your sign.   
Effectively Showcases Your Brand
Signs enable businesses to make a first impression on potential customers in a matter of seconds. You brand reflects your company, and is often the first thing a person sees before they even know what products you sell or which services you provide. Having a custom-made sign created by the Sign Central team allows you to advertise your brand in a unique way that reflects the theme of your business and the type of service or products you offer.
Makes Your Business Stand Out
Custom signs help differentiate your business from others on the street. A noticeable sign placed in a highly visible location can draw attention to your business, which can increase your customer traffic rate. A good custom sign should always reflect your brand, elements of your business, and establish a general theme that sets your company apart from the next.
Connects You to Your Customers
Signs serve as a primary link between your business and your customers. Building this relationship develops your brand presence and increases your customer retention rate. No matter what service or product you provide your community, you want to establish an immediate connection with them, and having an impressive sign to represent your business can do just that.
Cost-Effective Marketing and Advertising
For businesses that have limited marketing funds, custom signs can be a cost-effective way to market and advertise your products and services. While signs designed, fabricated, and installed by your local Aurora sign company require a one-time cost upfront, these are a long-term investment that cost much less than other types of continuous advertising, such as radio, television, and newspaper ads.
Locates Your Business
Exterior business signs target your audience and help people locate your business, allowing current and potential customers to easily find your place of business. Without having a visible sign that lets people know where you're located, you run the risk of losing business if they decide to give up looking for you, and go somewhere else, instead.
Contact Sign Central Today
No matter what type of business you have here in Aurora and surrounding suburbs, our team at Sign Central can create stunning custom signs to market your business, allowing you to connect with customers and grow your business. With a custom business sign from your Top Rated Local® Aurora sign company, there's no contract, little-to-no upkeep, and the sign will pay for itself. Contact us today to start your custom sign project.
Be sure to watch, like, and share our video!